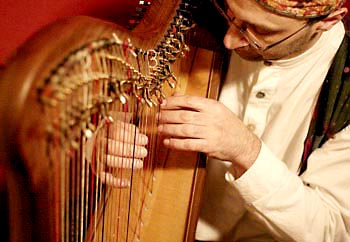 The harp is the oldest of all instruments. Images of harps can be found in the tombs of Egyptian Pharoahs dating back 5,000 years.
My harp is a 38-string Camac Celtic harp. The harp creates a magical, mysterious atmosphere with a mellow and soothing tone, ideal for weddings, restaurants, functions, etc.
I play a varied repertoire:
Celtic jigs and reels
Traditional South American tunes
Classical favourites
I am based in Bristol and am available to play the harp throughout Somerset, Devon, Dorset, Wiltshire, Gloucestershire and Worcestershire.
Also I can give tuition in Celtic harp. I often have instruments available for students to rent. This way you can try this lovely instrument without having to buy one straight away.
"A haunting, emotional sound…"

"Martin Solomon plucks music
from the air and captivates
the audience."

"...his harp transports you back
through the mists of time."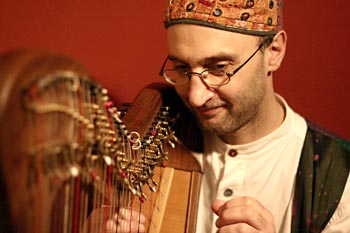 Listen to clips of me
playing solo Celtic harp: